How did you act courageously in 2020?
Rollercoasters may come to mind when you think about wild rides. Maybe even a basketball game that boils down to the final second. But, an entire calendar year? No one imagined 2020 would be as much of a nail biter as it was. It is being called the year of the pivot — the year that pushed people to about-face on previous plans, perspectives and priorities.
It challenged people to call on personal courage to do hard things. I wanted to know what some of those hard things were. So, in October, I began hosting a series on Instagram Live called Courage With Friends. I set up short conversations with girlfriends from child- and adulthood to hear about their most courageous moments of the year. 
And, what I learned from this group of dynamic, young professional women is that 2020 was the unexpected, yet perfect, set up for them to turn inward to better understand and be themselves. Below are powerful excerpts from their interviews, which have been edited for clarity.
There was plenty of goodness in each interview, so it was difficult to pull out one quote to share. If you missed the conversations live or want to hear them again, you can find the recordings on my Instagram feed.
As you read below or listen to the interviews, consider this for yourself:
How did you act courageously in 2020?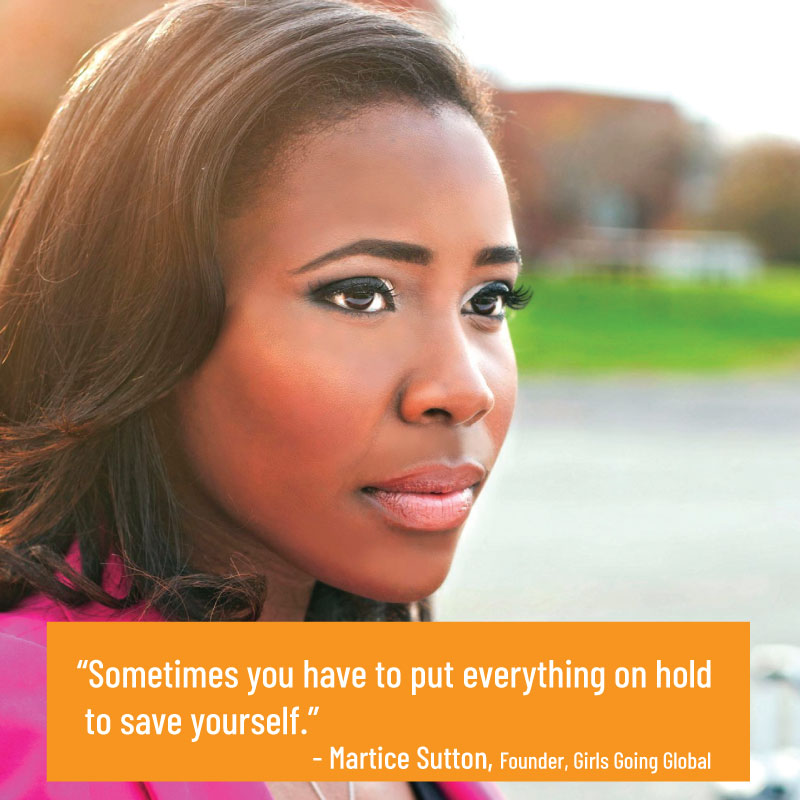 Martice Sutton
Founder – Girls Going Global
Decided to take a career break from an organization she founded
"I was dealing with racial trauma, economic trauma, professional trauma and personal trauma in regards to a romantic heartbreak, and they affected how I was moving about the world. [I had to have] a hard conversation with myself and do a hard assessment of where I was, where I was looking to go and how I was genuinely feeling … I am making a decision to save my life. And, because of that I cannot allow myself to get too entangled on what I'm missing out on … Sometimes you have to put everything on hold to save yourself.
Watch the interview >>>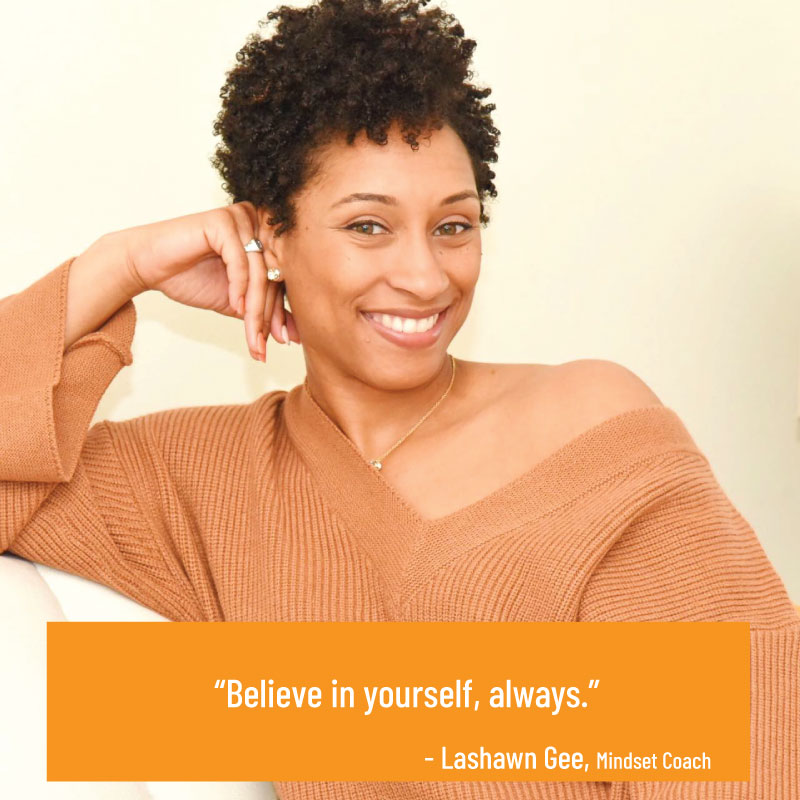 Lashawn Gee
Mindset Coach – ElleGee Wellness Solutions
Became a full-time entrepreneur full-time
"I thought about this to myself: did I make the right decision? The one thing that came back to me was … but you did it. I could worry about all of the things that didn't happen the way that I wanted to have them happen. I can pine and sulk over the things that I thought I should have right now and don't. But the fact is [entrepreneurship] has up-leveled me to ignite disciple even more … to take my business far beyond what I thought. Even though it's not right here in front of me, the fact that I know it's possible and the fact that I embrace that it is possible, puts me out here to do the work even more. 
Watch the interview >>>
Shannon Burns
Non-Profit Director of Education & Solopreneur – Soul and Ginger
Started saying "yes" to herself after breaking down at work
"I had a pivotal moment. It was in June of this year. My job is pretty stressful; I work for a non-profit that is in the business of helping people prepare for home-ownership … due to Covid we received funding to help people who needed help with rent and mortgages, so I was on all of these teams and was just overwhelmed. I had a mini-meltdown before I broke down … and my soul had to release. Sometimes your soul shakes you awake and says, "hey, you need to focus on you." 
Watch the interview >>>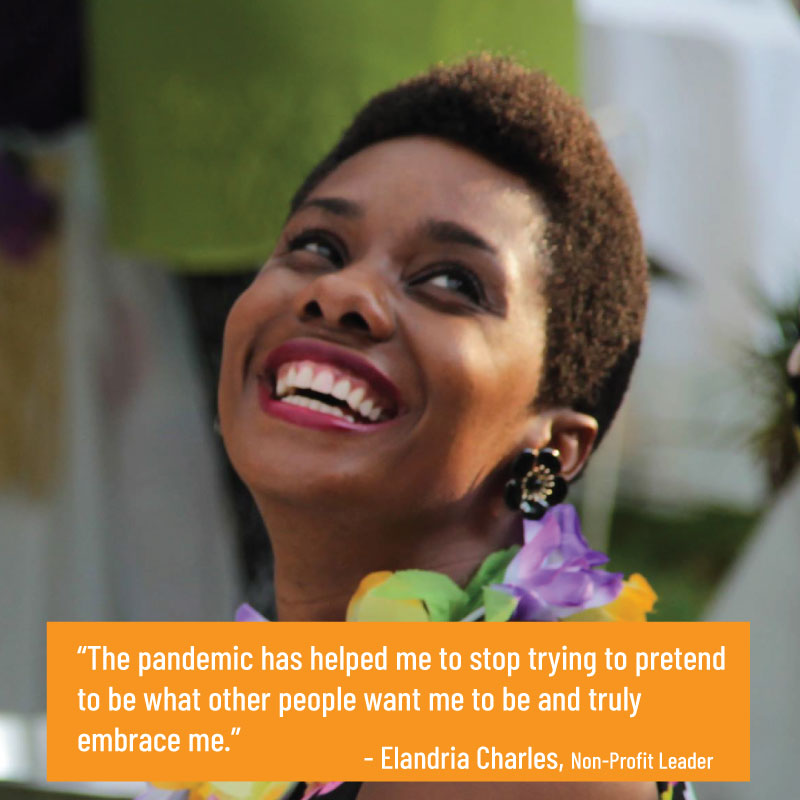 Elandria Charles
Non-Profit Leader
Decided that "I am enough" after breaking down at work
"In March, I had just come back to work from maternity leave and was going to prove to myself that I could come back and be the boss I was before I left … I was working myself like crazy. I had no boundaries and just felt really empty. Months later, I woke up one morning and had four meetings on my calendar. I got off the second meeting and was like, 'I can't do this anymore.' I literally had nothing else to give. I realized I was putting a lot of expectations on myself.  If I'm being really honest with myself, I think it's connected to … being in a white dominant society that is based on perfectionism and productivity. So, I think I'm putting myself under immense pressure and expectation that said my value equals my productivity. What this pandemic has shown me is that I have to stripe off all the facades. The pandemic has helped me to stop trying to pretend to be what other people want me to be and truly embrace me. I had to decide that I am valuable just by being in the room. If I say something or present something, that's icing on the cake." 
Watch the interview >>>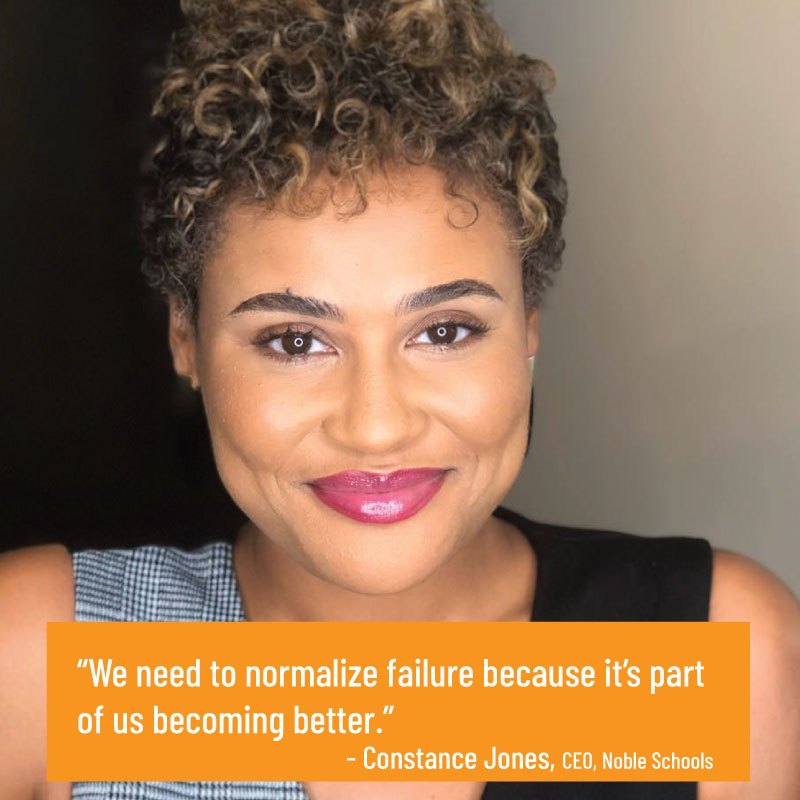 Constance Jones
CEO, Noble Network of Charter Schools
Learned how to be alone
"I am a big extrovert … I'm the type of person that would on the weekend have the brunches lined up, church lined up, evening dinners lined up. But, the pandemic forced me to learn how to be alone. I don't have a partner or any pets. I had used being around people and social situations as a way to distract myself from real big problems in my life that quite frankly I just needed to sit with and deal with. In the last four years, my father died, I got a divorce, my dog of 16 years died, and I became a CEO in a transition that was unplanned and had to help the organization evolve quickly. The pandemic forced me to get on my couch and deal with sadness, trauma, even anger. I've learned to be at peace with myself. I've learned to let all of these superficial, artificial things and people who don't matter go. We need to normalize failure because it's part of us becoming better."
Watch the interview >>>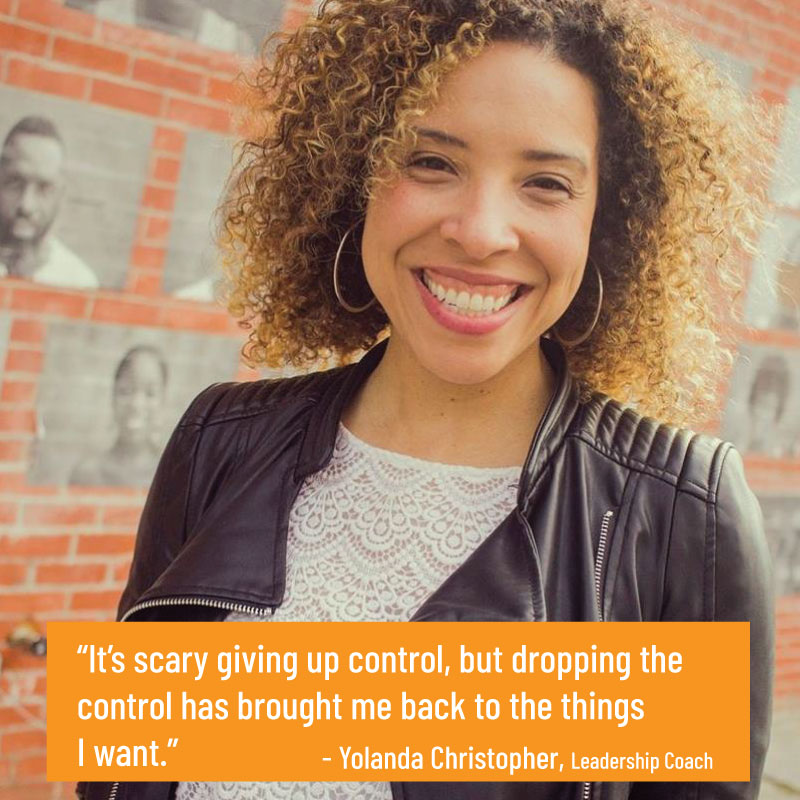 Yolanda Christopher
Leadership Coach, Yolanda Christopher
Dropped the illusion of control in her life
"Everything seemed to be fine because I was controlling things. I was a stay-at-home mom at the time, and I was doing all the things. I was making all of the meals from scratch, the house was clean, my kids and I were doing crafts and science experiments. There was a lot of control happening in what I was doing because of the outcome I wanted for their lives and mine as a wife in the household. And I had this realization that I was controlling my happiness by trying to control all of these things. It's scary giving up control, but dropping the control has brought me back to the things I want versus the things that I think other people need." 
Watch the interview >>>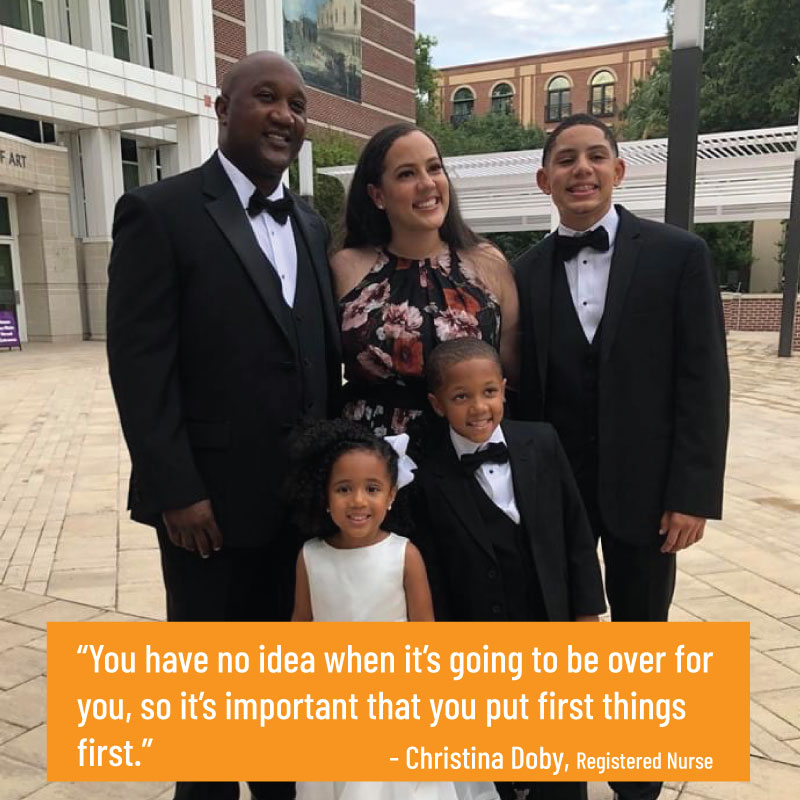 Christina Doby
Surgical Services Registered Nurse, Level 1 Trauma Unit
Worked in health care during COVID
"Being a registered nurse at a level 1 trauma center in the region, you don't  know what's going to roll through your door in the next two seconds. We get the people who are gun victims, stab victims.  The stress of the unknown is already there, but with Covid on top of that, it compounds the stress. I have to wonder if my patients who come in also have Covid. As a nurse, I have to toe the line between being caring and careful. I think the pandemic has helped people put priorities in order. It has helped me, too, to understand that sometimes things are not that deep. I'm not going to yell about the shoe in the middle of the kitchen floor because it's not going to matter in six months. Time is so precious. We can not get it back. We have to focus on things that matter."
Watch the interview >>> 
When you look back on your 2020, what what your most impactful or biggest moment of courage?