To Act Courageously, Build a Better Relationship With Fear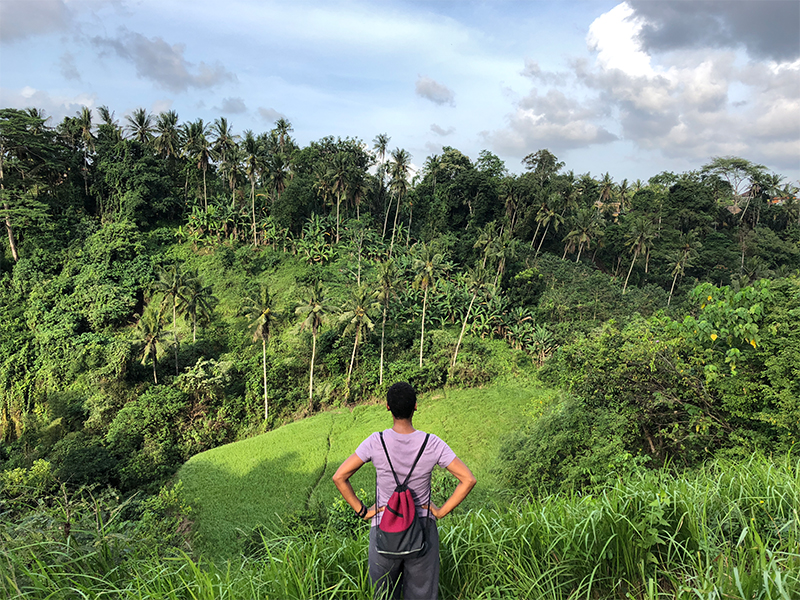 Fear is a deeply ancient instinct and an evolutionarily vital one … but it ain't especially smart. – Elizabeth Gilbert
I read Eat Pray Love when I was 27. The book's vivid descriptions of Indonesia's culture and countryside painted pictures of detailed wood-carvings, colorful temples and sprawling rice paddies in my imagination. And I was there. In the middle of it all. Shining in the sun, marveling at nature's grandeur and breathing in the freedom of being halfway across the world by myself, just like author Elizabeth Gilbert.
Then, I snapped out of it.
The last thought produced a panic that very quickly transported me back to reality and reminded me that I had never traveled outside of the United States. Ever. And I had never traveled alone. "So, that little daydream of yours needs to stay right where it is. In la la land." Fear had a way sassing me back in my place—a small, familiar corner that proved to be safe, yet restrictive and boring as hell. There were no rice paddies or volcanoes in the corner. There were no monkey forests or temples. There was nothing new. And the more time I spend in the corner, the more I realized how badly it sucked, along with my relationship with Fear.
THE PROBLEM WITH FEAR
When protection turns into suffocation and guidance increases to supremacy, a relationship with Fear gets complicated. Annoying. Even exhausting. We try to investigate our curiosities and move toward our goals, but Fear is always there, unbidden, cautioning us against exploration of the unknown. It consumes itself with pulling us back to safety, coddling us in comfort and convincing us that every threat, no matter how irrational, is far more significant than any (self) discovery we can make along a journey.
At first, we try to cover it up, drown it out, smack it back and push ahead, but Fear's relentlessness slows us down and forces us to deliberate internally. We question our purpose and doubt our abilities, which, in effect, gives vibrato to Fear's persuasive rhetoric. It becomes the only opinion we hear. So, with a muted and powerless inner voice, we stop. Then we turn around. Of course, Fear is by our side telling us that it's better this way—the way back. We grow exponentially dissatisfied with our relationship with Fear every time this cycle repeats itself. But. This isn't a relationship we can extinguish, wish away or trade in. Why? Because Fear is in it for the long haul.
3 WAYS TO BUILD A BETTER RELATIONSHIP WITH FEAR

My time in the corner, however, taught me that we can improve our relationship with Fear through intentional effort. Here are three ways how.
1. Seek to Understand. We can't improve what we don't understand. Building a better relationship with Fear requires comprehension of fear and of ourselves.
Understanding Fear. Fear's main responsibility is to keep us safe from harm—physical and social harm. Fear doesn't want us to experience rejection, discomfort, ridicule and defeat, so it criticizes and prohibits drives and actions that may end that way or that may have other significant consequences. The benefit of fear is that it can slow us down enough to help us organize our thoughts and to bring an element of practicality to our plans. Fear, however, is not discerning. It cannot distinguish among what it protects us from, so while it guards against rejection and discomfort, it also protects us from (or causes us to evade) possibility, like the possibility of discovering a new country and observing a different culture. That's a common entry point to our problems with Fear, but it can't be blamed for doing what it's programmed to do. Its purpose is safety, not opportunity and growth. That's where understanding ourselves comes into play.
Understanding Ourselves. We have safety and growth forces within us. Safety, driven by fear, can block us from freedom, progression and self-actualization if we don't have the confidence and courage to face it. Several courage researchers, including Daniel Putman, found that confidence in one's abilities was the major determining factor in how a person responded to fear, how much effort a person would exert and how long he or she would persevere in the face of challenges. Confidence gives a person a sense of control in the presence of Fear and can help reduce it. But before we can be confident in our abilities, we must first know our abilities. Therefore, self-knowledge is a prerequisite of self-confidence. If we don't know ourselves very well—what we desire, believe in, excel or struggle in—Fear will overwhelm us.
2. Communicate Openly and Honestly. It's ok to confront and question our fears because curiosity brings clarity. Questioning Fear, even if momentarily, suspends its power and allows the voice of our inner convictions to emerge. The idea of traveling to Indonesia stayed with me for a few weeks, and my thoughts vacillated between possibilities and challenges. I needed to talk it out, so one day, I decided to have a conversation with Fear. It went something like this: "Fear, I know you don't want me to get snatched up, swindled or lost overseas. I know you don't want me to be treated with hostility or disregard. I know you don't want me to feel helpless or confused in a place I know little about. Thank you for wanting to protect me. I really appreciate it. But I have a few questions. If I don't go, will I ever go? Anywhere abroad? If I don't go, will I miss out on what could be the most liberating experience of my life? If I don't go, am I missing an opportunity to show myself what I'm made of? Would I alleviate some of your concern if I researched the country or other female solo travelers who've already been there? Ok, let's just say I get over there and freeze from panic, couldn't I still enjoy Indonesia from the safety of my balcony?"
We stand little chance against Fear if we don't communicate with it and challenge its over-protectiveness.
3. Build Healthy Boundaries. Without boundaries, Fear usurps control in our relationship. We can't eliminate it, but we can contain it by knowing what we tolerate and disapprove. Those responses are clues to our limits. In Big Magic, author Elizabeth Gilbert perfectly illustrates, through a road trip analogy, how and why she sets boundaries with Fear. She says, "'Dearest Fear: Creativity and I are about to go on a road trip together. I understand you'll be joining us, because you always do … I recognize and respect that you are a part of this family, and so I will never exclude you from our activities but still—your suggestions will never be followed. You're allowed to have a seat, and you're allowed to have a voice, but you are not allowed to have a vote. You're not allowed to touch the road maps; you're not allowed to suggest detours; you're not allowed to fiddle with the temperature. Dude, you're not even allowed to touch the radio. But above all else, my dear old familiar friend, you are absolutely forbidden to drive.'"
***
We can make the best of the complicated relationship with Fear by seeking to understand Fear, communicating with it and building healthy boundaries.
Taking these steps helped me negotiate with Fear and purchase a ticket to Bali, Indonesia. It was a challenging discourse, but three months later, I found myself bargaining in markets and biking along side rice paddies. I shined in the sun, marveled at nature's grandeur and breathed in the freedom of being halfway across the world by myself, just as I had imagined.
Save
Save
Save
Save
Save
Save
Save
Save
Save
Save
Save
Save
Save
Save
Save
Save
Save
Save