20 Lessons From Travels In South America
Traveling abroad has taught me important lessons about courage, the super-virtue I champion in the development of youth and young adults. My recent trip to Perú, Chile and Argentina served up 20 "make-ya-say-hmm" life lessons with the theme of courage threaded throughout. I'm glad I didn't miss the lessons, and I'm even more thrilled that I am able to share them.
Here they are.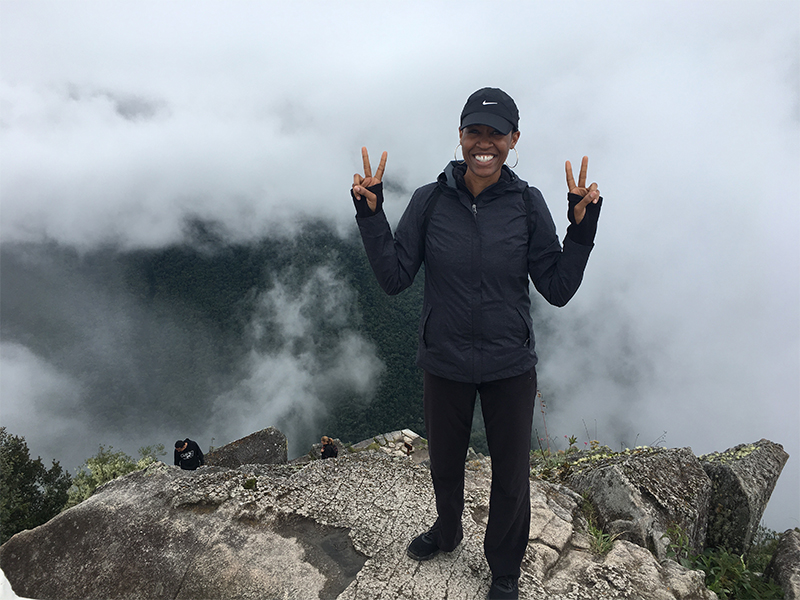 1. Do things for the experience, not for the picture. Imagine climbing two miles up Waynapicchu mountain to get the best picture of Machu Picchu – one of the most iconic creation of the Inca Empire – and only being able to see … clouds. I'm convinced nebula gods were giving me a hint that the trek was never about stunting on Instagram but rather about soaking up the journey.
2. Take one step at a time. Waynapicchu mountain presented thousands of rocky steps to climb to make it to the top. My booty burned as I stood on step 654 yearning for step 2,312 (or whatever the last step was). But, there's no point in yearning for the future, if you're not taking the steps in front of you.
3. Recognize your guides, and listen to them. No journey comes without a guide. A random (or maybe not so random) tour guide sat next to me on my way to Aguas Calientes and gave advice on the best way to experience Machu Picchu. If I did not follow his advice to go twice, I would not have been able to see Machu Picchu on a clear day. Guides are present for a reason. Listen to them.
4. Make your #1 travel destination outside of your comfort zone. Machu Picchu took 30 years to build using tens of thousands polished stones. Inca people used their bodies to lift boulders, haul sand and carve stones. Learning this made it impossible for me to shake the thought that you cannot occupy your comfort zone and build your best life at the same time.
5. Be open. Starting up a conversation with a guy on a bus led to us hiking Machu Picchu together. It turns out, he was a solo traveler in Perú to connect to his roots. Being open to new people, conversations and perspectives invites self-expansion … and new trekking buddies to accompany you on your journey.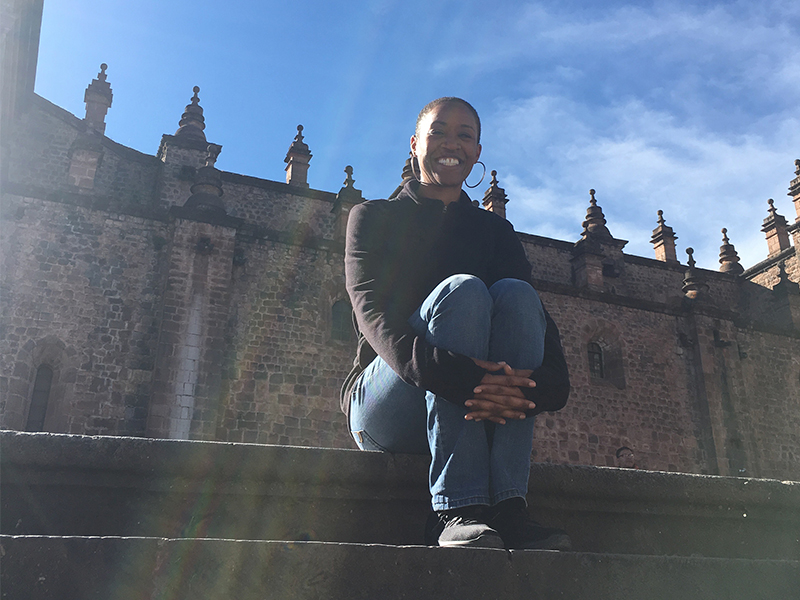 6. Do not let your mama's fear become your own. My mom worried about my solo trip. What about interacting with people you don't know, getting lost, and being unable to communicate? Exactly. I was curious about interacting with people I didn't know, getting lost and practicing my Spanish to communicate. People have their own fears. Those fears don't have to become yours.
7. Be ok with standing out. Standing out is … carrying a large purple suitcase on a train when everyone around had petite rollerbags and backpacker bags. It doesn't take much to feel different and awkward. But, settling into the thought that different is OK makes some of the awkward go away.
8. Know your worth, and settle for nothing less. I eavesdropped on a merchant in Cusco repeatedly telling a customer her price for an item despite the customer's haggling attempts. When the merchant didn't budge, the customer turned to walk away. But he didn't leave. He turned back around moments later and bought the item at asking price.
9. Get down to the beat of your own drum. An Afro-Peruvian drum class in Lima taught me to go with the flow, feel the music, and get down to my beat of my own beat.
10. Be still and get lifted. Sitting still doesn't have to translate to not moving. I found that out sitting in the Plaza De Armas in Santiago, Chile for hours watching people, birds and buildings. The entire experience lifted my awareness and my mood, all while sitting still.
11. Change your emphasis, change your reality. In Spanish, the placement of an accent/emphasis on a word matters. It can change the entire meaning of the word (or phrase, in my case). I get a lot of curious stares on my travels. The question I imagine people asking is: who are YOU? The emphasis on YOU means, "Are your really that CRAZY to be black and a woman and traveling alone?" But, shifting the emphasis to "who ARE you?" takes on a new meaning. "Are you really that DOPE to be black and a women and traveling alone?" When you change your emphasis, you change your reality.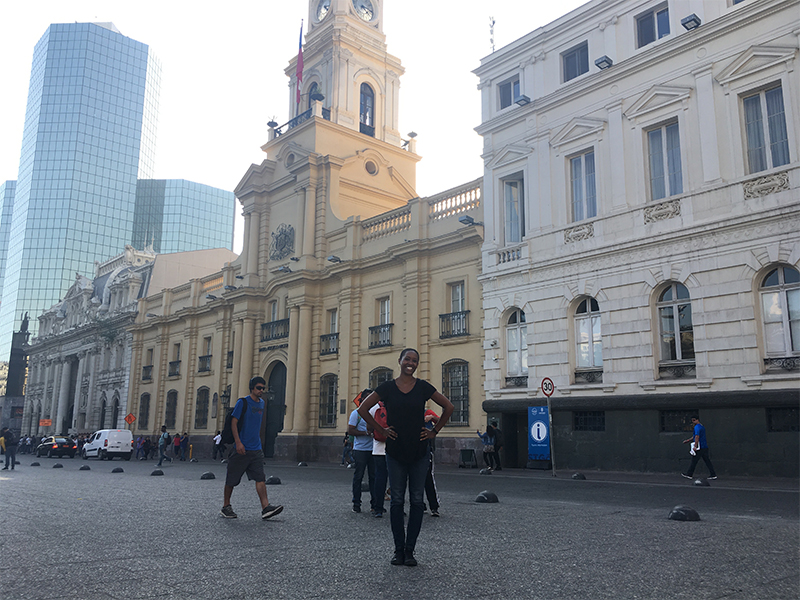 12. Try. Then try again. My Spanish speaking attempts in South America turned out to be a mash-up of sounding crazy and sounding bilingual. But, I tried. Trying is the only way to build skills and find out how reliable those skills are.
13. Watch what you waste. A market in Peru sold cow mouths, a product I've never seen in my local supermarket. I imagined this part of the animal being discarded back home, which made me consider, "What resources do I waste? What resources do youth waste? Time, money, words, talent, effort?"
14. Learn the language. None of my taxi drivers in Argentina spoke English. Not one. Not understanding Spanish makes it harder for a traveler to navigate around South America, just like not understanding courage makes it harder for youth to navigate around obstacles.
15. Get lost to discover. Taking a bike ride in El Calafate resulted in me getting lost (temporarily) AND in me finding the most beautiful view of Lago Argentino. Sometimes you have to get lost in order to discover.
16. Look around. Beauty is everywhere. Even the cemetery in Buenos Aires was beautiful. Beauty can be found in the most unexpected places when you are awake, aware and interested.
17. Find your place, and express yo self. Poster art is on fleek (do people still say that?) in Buenos Aires. It covers doors, way and windows. I imagined artists scoping out neighborhoods for unoccupied spots to claim, just like youth have to claim their spots in the world and express themselves.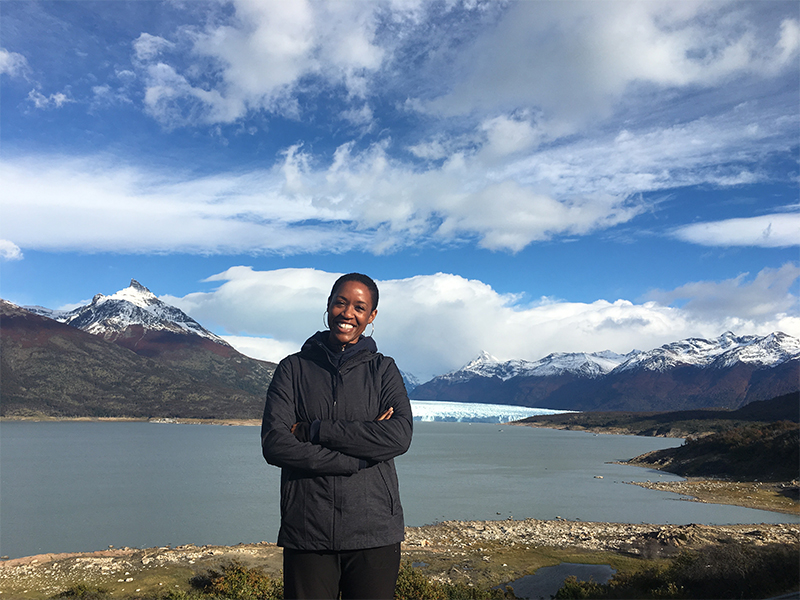 18. Don't lose the awe. The people around me were not nearly as enthralled with the snowcapped mountains of Patagonia on the last day of their visits compared to the first day we laid eyes on them. The mountains had become familiar, and the awe was gone. I couldn't help but recognize: a little extra work is required to fight the familiar and stay in awe of your dreams and your progress.
19. Share your knowledge. Knowledge is meant to be shared. That's the sentiment I got when every taxi driver I encountered willingly, excitedly, and proactively shared information about their cities with me. They wanted me to enjoy the best of what their cities had to offer. Knowledge should be shared so youth have the opportunity to experience the best of what life has to offer. Insert finger-snap.
20. Try your best. This particular lesson didn't come from one place. It surfaced and followed me through my entire trip. Through the surprises, setbacks and sweetness of travel (and life), the best thing to do is to try your best.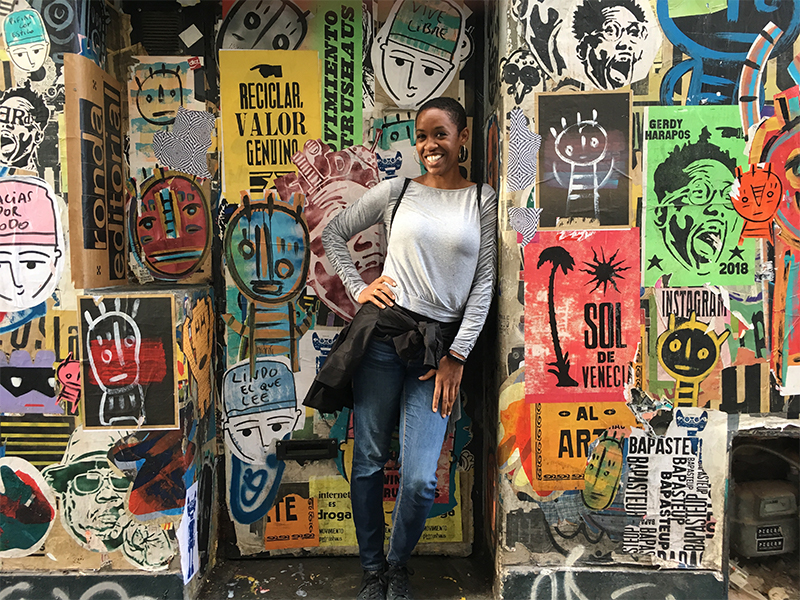 For more pictures, visit Instagram.